Raising Elf Awareness
Raising Elf Awareness

Ok, this seems to be a controversial subject. Opinion is very much divided on social media (when is it ever not?) about the old elf on the shelf tradition. I personally love the premise, although I draw the line at posting endless pictures about the escapades.
We've decided this year to join the elf on the shelf brigade having used a similar elf from the elf company previously. How did it go down? Well read on (please, it's Christmas after all!)
Backstory.
It all started last Christmas when iBears Nursery encouraged the children to take home the nursery elf for a couple of days and he of course ended up in a bit of trouble. iBear kind of bought into it a little bit so we thought we'd get one for our house. She greeted the elf with some wonder and we tried to create all manner of funny situations but she seemed to lose interest after a week or so only giving "Bob" (her idea) a cursory glance every morning.
This kid doesn't believe in magic?!
Roll forward to this year and I'm getting a little concerned about my Daughter. She told me recently there's no such things as magic and whilst Santa was real things like the tooth fairy (and in fact all fairies) weren't. She also proudly announced that Mammy and I were getting too excited for Christmas and that she won't be joining in the excitement until Christmas Eve….. Now I'm the kind of guy that loves all things magical and Christmas, always have been, so to hear this coming from my own flesh and blood was like a wand full of fairy dust through the heart.
Mammy and I discussed about bringing Bob back this year and we got talking about Elf on the Shelf. As iBear had started school this year we wondered whether a number of the kids would have a similar elf with it seemingly being the most popular and we didn't want her to be the odd one out so we thought we'd go for it.
We had two problems to overcome. What did we do about Bob, and if we were to follow the official rules of Elf on the Shelf how would we be able to convince iBear not to touch. It's practically guaranteed she'd want some sort of cuddle and playtime with her new buddy but we wanted to give it a go as it was intended.
With the artistic help of a girl from work I came up with a letter that Bob could bring along with him this year introducing the new elf.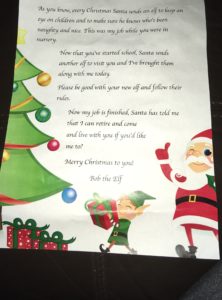 And so the stage was set….
Let's do this.
We decided to have the elves come to our house on the 30th as they were bringing an advent calendar with them and we thought it would be a good to let iBear have it ready for the 1st.
Whilst Mammy distracted her I snuck into the garage and out to the front door where I placed the advent calendar, Bob and new elf all under the little umbrella she often uses for school. I gave the door a loud knock then got back into the house to irritatingly shout, "who's that at the door?". Ever the curious girl iBear was at the front door immediately. When we opened the door there was what can only be described as a dramatic pause….
"iBear? Did you leave your umbrella outside?!" I ask.  "No!"She exclaims. I instruct her to go and get it and when she lifted it up and realised what was under it she let out an excitable squeal. "It's my elf from last year" she shouts as she grabs him. (She's running with it! **airpunch**).
As we gather everything up she tells us she'd been thinking about him the last few days and did we remember the time he left toilet roll all over the house last year. I swear that kid has a photographic memory. I'm in for a world of hurt in her later years! She looks at the advent calendar and then sees the Elf on the Shelf box and looks at it quizzically.
At this point we all sit down together and read Bobs note. Now we've seen iBear in all kinds of different happy states but her reaction when she hears Bob is retiring and is to live with us is yet another one I will cherish forever.
We then open the Elf on the Shelf box and slowly read through the story which explains (very well I might add) what this new elf is all about. She loves it and insists straightaway that she won't touch this new elf, "Bobbie Rose", as she doesn't want the magic, or the elf, to disappear. I think the fact she has Bob to cuddle helps a lot.
Finally, as if the evening hadn't gone well enough, she's completely convinced herself that it must have been Santa that knocked on our door.
Ok, so she woke at 4:50 the following morning and was a right whinge bag the next evening but we're putting that down to excitable tiredness of our own doing. **Shakes fist at Elf**
Here's to 24 days of mischief with the elves. I really hope we all have the stamina required to see it through.
Footnote: whilst we have followed the rules about not touching her new elf she has become inseparable from Bob. This means he's been out and about wherever we've gone so I apologise to any parents out there who've had to answer questions from their kids as to why my Daughter can carry an elf around and they can't……