Giddyup Horsey!
Giddyup Horsey!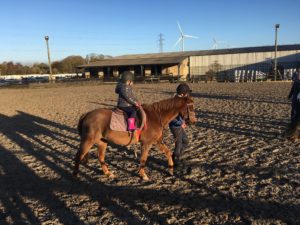 We've had a voucher for a pony ride lesson burning a hole in my wallet for months now.  We got it for around £10-£15 and as such I wasn't expecting a lot from it.  The deadline for using it was fast approaching so we decided to book up a couple of weekends ago. What a brilliant experience!  Here's how we got on.
We arrived at the equestrian centre, checked in and followed the others in the group to the stables to start our experience.  You could tell instantly our guide was very comfortable in her environment and she put the kids at ease by talking to them directly and involving them right from the word go.  We could pretty much sit back and watch it all happen.  There were 5 kids including iBear and each were given their own brush with which to help groom the ponies while they were being introduced.  iBear was a little nervous approaching her designated pony but soon got right into it smile beaming away.
Next, the ponies were led into a nearby enclosure and the guide spent a decent bit of time with each child making sure they knew how to sit properly on their respective animal and ensuring everyone felt comfortable. Each pony had a handler and the group started off leading the ponies slowly around the enclosure whilst constantly reassuring and talking to the children. iBear was loving it and I haven't seen her concentrate this much on anything for ages. She was hanging on every word and I was seriously thinking of inviting the guide to come and live with us! As the ponies were led back to their starting places I was all ready to go and collect iBear and thank them for a nice experience.  But wait, there was more.
It turned out the kids were now going to have a go at riding the ponies by themselves…… Did I hear that right!? But once again there was a lot of attentive discussion around the dos and don'ts and then off they went.  The handlers remained close but iBear was riding a horse, without assistance! I was both bursting with pride and panic. She was told when to squeeze with her knees and when to pull on the reins and  she nailed it.
To finish off the handler then asked if iBear wanted to go for a trot.  She was told to hold on tight as the pony gathered a little pace.  We could hear her delighted squeals all around the enclosure as she was led around. To cap it all off we had a good giggle watching her get off the horse and try to walk toward us with jelly legs!
All in all the experience lasted about an hour and what brilliant value it was too.  I couldn't thank the staff enough for their attitude towards the whole experience and it's something we will definitely look to doing again in the future.