Board Game Geeks – Assemble!
Board Game Geeks – Assemble!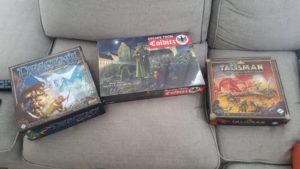 This weekend was the inaugural four way lads board game, beer and BBQ get together in Bristol– and it was Team Awesome!
The attendees:
me (41, married, Dad of one, Wife reaction: a fellow board game fan but not the type we like to play – a   of the head at my excitement, Daughter reaction – "enjoy your holiday Daddy"),
 J (41, married, Dad of one, Wife reaction:  one of disbelief right up until the day we flew, Daughter reaction – "I can't believe you're going on a plane without me"!),
T (31, single, Dad of one, Son reaction – "Can I come next time?!"),
G (31, engaged, Fiancé reaction – you guys are losers! )
My cousin (G) and I are very close and despite the 10 year age gap have very similar likes, dislikes and attitudes to life.  One of these being the love of board games in all its forms.  Our family grew up on them and as we've grown older we've retained a love for them and try to meet when we can to have a weekend trying out a new game, playing old ones and also hitting the town for a few drinks and a catch up.  After our last get together earlier this year we decided to ask a friend each if they fancied joining us so as to try a few games which are better suited to more than two players and so this weekend was arranged.
Me and my friend (J), also a long standing game fan, travelled down on the plane from Newcastle on Friday afternoon and got a taxi to G's house (our host).  His friend (T) arrived earlier in the day from his home in Bournemouth.
We had originally planned to hit a few beer gardens on the Friday but by the time we arrived the weather wasn't great and there was plenty of beer in the fridge so we thought we'd get started with the games.  That and after two pints in the airport, (J) and I were ready for a nap – we can still party hard!
First up: Escape from Colditz
This is a game that's been out for a number of years and one that I've played before as a child.  One of the best things in this game is there is a lot of historical reference material  pointing towards the actual escapes during the Second World War – definitely one for the history lovers.  The basic premise of the game is one player takes control of the Germans and the others select a country that had POWS  imprisoned in Colditz.  The aim of the Germans is to stop any of the Allied players from escaping in the games 50 round limit whilst the aim of the Allies is of course to escape using a variety of different methods.  Escape equipment is collected by visiting various rooms in the prison and escape attempts are made from climbing over walls, cutting through wire fences, obtaining keys or even mad dashes for freedom.
We managed two games before hitting the sack at 2am, one with me as the Germans (a win for (T)) and one with (G) as the Germans(a win for me) although both games came down to the last few turns.
As the game enters the last few rounds you can feel the excitable tension of  who's going to make it and the dice results brought a few brilliant post-watershed reactions…..
We'd already agreed to get up at 8am on the Saturday to maximise gaming time.  We'd had a decent bit to drink and a huge chinese takeaway  but because it was all consumed slowly and over a long period none of us were any worse for wear.
Next game:  Descent: Journey in the dark.

This is your classic dungeon trawler kind of game.  Think cooperative Warhammer Quest.  Each player chooses a hero and  together with the other players battle through dungeons, slaying monsters and gaining loot whilst attempting to reach the overall mission objective.  Normally in this game one player has to take the position of "Overload" and be in charge of the story and the bad guys.  However, there's an app for that…. Road to Legend.  The app becomes the Overload and allows the human players to all team up on a cooperative campaign.   It's a great idea and we called ourselves Team Awesome *coughs, moves on*. The game has a fairly steep initial learning curve but once everything clicks it's a lot of fun.  It's the  kind of game we all love and we played it non-stop until the wee hours of Sunday morning, only stopping for a trip to the local newsagents for a lottery splurge (Seriously, two lucky dips for a £40 joint spend, come on!!!) and a big BBQ dinner.  We beat the Overlord by the way,  obvs….  Tired, we agreed to have a small lie in until 9am when it was time for:
Next game: Talisman.
Unfortunately after coffee, bacon and getting ourselves ready for the lunchtime return flight home we didn't get much chance to do this game justice.  It's another dungeon crawler but played more like a traditional board game where you battle everyone else to move around the game to be the first to reach the Chain of Command and defeat all other players.  It's very fast paced but as there were four of us we needed more time than we had to complete it – result: no score draw.
And so it was home time.  As expected the weekend went over far too quickly but it was brilliant and very much worth it.  We all had a good chat and relax and perhaps, most importantly, it gave us a few hours of not having to worry about all of lifes decisions and demands.  Being a parent is really hard work and it's so difficult to be able to switch off from it and just enjoy a little time to reset.  These kind of weekends enable me to do that.
iBear had a weekend of sleepovers at her grandparents, something she loves to do (and something we don't do very often – a topic for another day) and my wife had a night out with a close friend and a night alone with a film and a glass of wine. We were all reunited at the Airport and I got a brilliant smile and cuddle from my daughter as I came through the arrival gates.  She was my little shadow for the rest of the day which I devoted to playing and just generally being around her.
One Dads View:
We all need a break from parenting if we can manage it.  Some of us find this easy, some of us unfortunately don't get the opportunity but we should never fool ourselves into thinking we should never receive help when it's there for us; in our case, Grandparents who are more than happy to look after iBear for a night.
Until next time – *ROLLS DICE*